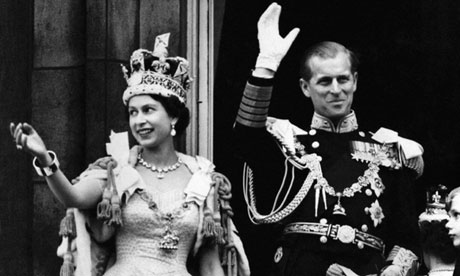 It is the 60th anniversary of Queen Elizabeth's coronation. I wish her many more years of a peaceful reign, but on days like this we are once again reminded that despite the ubiquity of Mr. David Cameron on the world stage, the United Kindom and her dominions are in the seventh decade of their rule by same Head of State and Commander-in-Chief. When she does join her ancestors (long, though, may she reign) her potential successors are already well-known – and will certainly not be chosen by Plebeian ballot.
Of course the British brand of autocracy has been refined over the centuries so that little more than pomp and circumstance, wealth and grandeur reside in the Court of St. James'. The dynastic reign of the Windsor family is moderated by the people's democratic right to elect the occupants of parliament, a parliament that sits at the core of British democracy by choosing the Chief Operating Officer of Britain Plc. Despite the fact that Cameron can legally remain C.O.O. for the next 60 years – if he continues to win elections – Britain's democratic laurels seems secure – proof of a society that has evolved a home-grown, if quirky, system through the centuries to fit with modern exigencies. It also lends a somewhat ironic sheen to the vocal support by Cameron & posse of street protests that flare up against sit-tight rulers up and down the world.
The British evolution is on-going. Some days ago, the parliamentarian Patrick Mercer and other colleagues were caught in a sting operation run by the media. 'Bungs' were paid or promised and Mercer agreed that he had received £4,000 (N1,000,000) from fake lobbyists to offer 'parliamentary services' to the pariah state of Fiji. There has been resignations from committees, from political parties, but Mercer for instance plans to keep his £66,000 p.a. job in Parliament until his term expires. Like the recent Expenses Scandal that hit the English parliament not that long ago, this case highlights a potential lacuna in British constitutional law: in situations like this it is the shame – or lack of it – of the parliamentarian that determines if he stays in office, not the electorate. – The British elector has no power to recall his MP, and the most recent attempt to enact recall legislation appears to have collapsed at committee stage last year.
The British evolution continues. After all these centuries, Britain still lacks a written constitution. Although elements of its constitutional law is gathered in written instruments, it is still mediated by hoary conventions. Nigeria on the other hand, like two dozen other countries including Venezuela, the Philippines, South Korea, Argentina and Taiwan, has a recall provision enshrined in its constitution. Unfortunately, despite the most brazen provocation, not least of all the very public N99,000,000 in bribes reputedly received in February last year by Federal Rep, Lawan Farouk, S.69 of the constitution remains pristine and bubble-wrapped.
After 14 years of the operation of the 1999 constitution, not a single senator or representative has ever been recalled from our infamous legislature. In 2010, during a public meeting at the Nigerian High Commission in London, I asked Prof. Maurice Iwu, then chairman of the Independent National Electoral Commission why this was so. He explained that his commission had actually facilitated a few attempts, which petered out. He was frustrated that in Nigeria sometimes the person who 'called the cops' was the same person who came back to beg said cops not to prosecute.
Clearly there is something to be said for organic development. Spanking new constitutions that are grafted onto bemused countries often belongs to constitutional lawyers. It takes a virile, non-comatose electorate to develop the muscles of constitutional safeguards, and to tone them with constant application. The challenge is for middle classes up and down the world to rouse themselves from their salaried stupor and wrestle accountability and change from the occupants of smug State Houses. This is the only way for societies to grow fairly and sustainably, and avoid the anarchy of Syrian-type conflagration.